If you're seeking a method to improve the appearance and texture of your skin, you may have heard of dermaplaning. Dermaplaning is known for giving people smooth, healthy-looking skin, but people often ask, "How much does dermaplaning cost?"
What Is Dermaplaning Facial?
Dermaplane facial is a way to remove the top layer of skin by scraping it off with a clean surgical blade. The blade is held at a 45-degree angle and scraped gently across the face to remove dead skin cells and peach fuzz. The result is a smoother, brighter complexion and more even.
How Much Does Dermaplaning Cost?
The dermaplaning cost can vary based on several factors, including the provider's location, their experience level, and the treatment's extent. Per session, dermaplaning can cost anywhere between $75 and $150 on average. It's important to know that the price of dermaplaning can be affected by other things, like whether or not it comes with different skincare treatments or products. Some service providers may offer discounts or package deals for multiple sessions.
Factors That Influence Dermaplaning Cost
The dermaplaning cost can vary based on many variables. Here are some of the most significant factors that can affect the cost of this treatment:
Location
The price of dermaplaning in your area will depend greatly on how many people offer the service and its popularity. It follows the basic principle of supply and demand: If numerous people in your town want to undergo dermaplaning. Still, only a limited number of providers are offering the service. Then the prices may be higher.
Furthermore, the provider's practice location can contribute to a price increase. In upscale neighbourhoods of cities like New York or Los Angeles, where the cost of living is high, dermaplaning is likely to reflect this. Also, medical spas and doctors' offices may have to pay rent, which can affect the treatment's cost.
Provider Experience And Expertise
In some states, aestheticians, like those working at medical spas, can do dermaplaning. But expect to pay more if you choose a practitioner with more experience and training, like a board-certified dermatologist or plastic surgeon. Because their time and knowledge are more valuable, a board-certified dermatologist will charge much more than an aesthetician. They could have used that time to do a more expensive service that would have required more knowledge.
Additional Treatments
Some people combine dermaplaning with other skincare treatments, such as facials. However, it's essential to remember that adding additional treatments to your dermaplaning session will likely increase the cost. So, if you choose this route, be prepared for a higher bill.
Treatment Sessions
Dermaplaning, despite having numerous advantages, does not offer a quick solution. Instead, you need to get six professional treatments for your acne scars, fine lines, and wrinkles to look less noticeable. If you want to do dermaplaning as part of your regular skincare routine, think about how much it will cost to do it every four to six weeks.
What Does The Dermaplaning Cost include?
The cost of dermaplaning includes not only the serums, tools, and gloves used but also the time of the provider or technician doing the procedure and any costs that come with using a private treatment room. It's important to remember that the prices for each part can change depending on where you live and who you use.
How To Prepare The Skin For Dermaplaning?
To achieve optimal results and prevent from dermaplaning going wrong, experts recommend properly preparing the skin before dermaplaning. This means checking your skin for cuts or scrapes and ensuring it is not damaged in any way that could make you more likely to get an infection. A few days before the procedure, you should avoid exfoliants and other skin care products that can make the skin more fragile, like acne retinoids.
Suppose you have a tan, sunburn, active acne, a flare-up of rosacea, or an inflammatory skin condition like eczema or psoriasis. In that case, it is best to avoid dermaplaning as it can worsen these conditions. Also, if you have a lot of deep acne scars, you should be careful because your skin is more likely to get cut during the procedure.
Is Dermaplaning Cost Worth It?
The benefits of dermaplaning are debatable and will vary from person to person. Dermaplaning can be expensive, but the payoff is worth it for some people: smoother, brighter, and softer skin. Some people might not think the benefits are worth the price tag. Consult a licensed provider about your skincare goals and concerns before deciding if dermaplaning suits you. They will be able to tell you more about the therapy and advise you on whether it is practical.
Dermaplaning Cost-Takeaway
Location, practitioner's level of experience, and the special service package all play a role in determining how much a dermaplaning session will set you back monetarily. Generally, you can pay between $75 and $250 for a single dermaplaning session. Whether or not the practitioner offers dermaplaning as part of a package deal with additional treatments or services can also affect the total cost.
If you want to read more about facials. Click the following
FAQ's
1. Does Dermaplaning Hurt?
Dermaplaning is almost completely painless. The only possible adverse effect is a slight flushing that disappears almost immediately.
2. Who Are the Ideal Candidates For Dermaplaning?
Individuals with dull, dry, or uneven skin texture, fine lines, wrinkles, and superficial hyperpigmentation are ideal for dermaplaning. It is also appropriate for those with facial vellus hair (peach fuzz). All skin types, even sensitive skin, can safely undergo dermaplaning. However, individuals with active acne or rosacea should wait until their skin has healed before getting it done. Talk to a professional in skin care to find out if dermaplaning is right for you and to address any worries.
3. Who Should Not Get Dermaplaning?
People with sensitive skin or conditions like rosacea or psoriasis should talk to a doctor before getting a dermaplaning treatment. Since dermaplaning is done by gliding a blade over the skin's surface, it may worsen any underlying problems.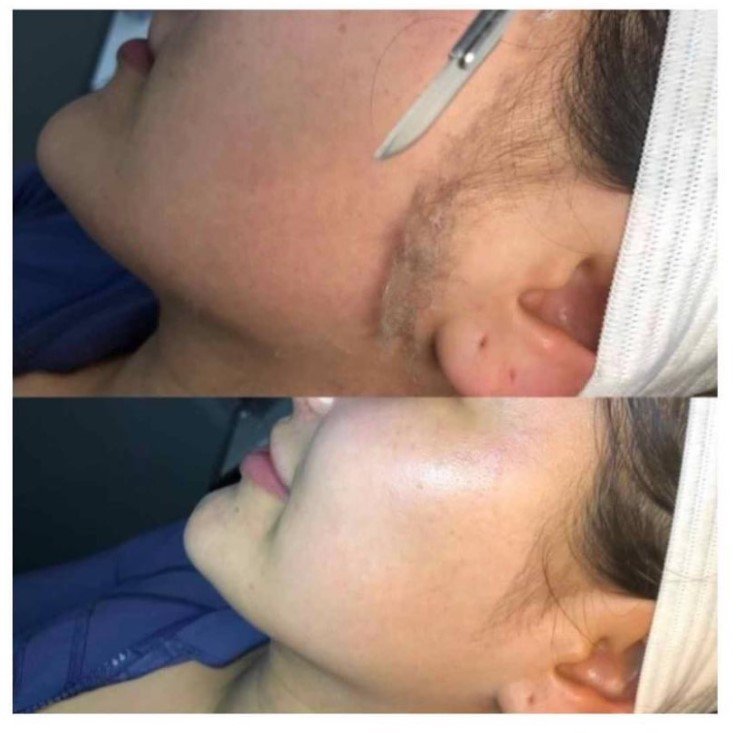 4. Is Dermaplaning Good For Me?
One of dermaplaning's many advantages is that it works equally well on light and dark skin. Because it does not involve chemicals, dermaplaning is safe for use, even during pregnancy and nursing.
5. Does Health Insurance Cover The Cost Of Dermaplaning?
Most health insurance plans pay for reconstructive surgery and procedures but not for cosmetic surgery and procedures. Insurance companies do not cover dermaplaning because they consider it a cosmetic procedure and not a medical necessity.
6. When You Can Get Dermaplaning?
Typically, dermaplaning treatments last between 3 and 4 weeks. The majority of clients choose once-monthly appointments to maintain healthy skin. Nevertheless, dermaplaning is safe and effective, as required, for optimal results. An in-person consultation is optimal for determining what is best for your skin type. Overall, dermaplaning is a cost-effective method for maintaining soft and supple skin. Dermaplaning is a common way for the skilled staff at Derma-Tech Medical Spa to help people who need corrective or preventive care. We offer medical-grade solutions with little to no downtime so you can feel good about your skin daily.