The saline eyebrow tattoo removal method is perfect for people who want their eyebrows reworked with the pigment in the future. For decades, saline eyebrow tattoo removal has been the most popular way amongst tattoo artists to safely and effectively diminish cosmetic tattoos and remove tattoo ink.
We address the complete guide on how to remove brow tattoos with the saline solution method. Must read before taking your decision.
How Does It Work?
The saline solution directly applies to the eyebrow skin. This saline solution contains finely milled sea salt, purified water, extract of lemon seed, lemon seed orange seed, and aloe. Artists can treat up to a 2-by-2-inch area in one sitting.
The saline tattoo removal solution develops a scab over the application area that will fall off by itself and the skin becomes heal naturally. The new skin appears after the scab falls off in its own time. During the saline removal healing process, the unwanted pigment is attached to the scab and is effectively pulled up and out with the scab.
The procedure can be repeated if necessary to remove any remaining pigment. To completely remove the eyebrow tattoo 3-5 sessions are required and possibly more.
How Long Does Take Saline Eyebrow Tattoo Removal?
Just like eyebrow tattoo laser removal, this procedure requires 3 to 10 appointments. It depends on eyebrow tattoo saturation, pigments shade, skin texture, etc. You need to wait for about 7-8 weeks between the saline removal sessions. The treated area needs to be completely healed in order to continue with the treatment.
Saline Eyebrow Tattoo Removal Preparation
There are some things that you must follow in order to prepare your skin for tattoo eyebrow removal with the saline solution method:
You need to avoid sun exposure.
Your eyebrow's skin area must not be tanned or sunburned.
Do not work out on the day of the session.
Avoid using products that contain retinol for 7 days before your session.
Saline Eyebrow Tattoo Removal Healing
The healing process of tattoo brows removal is an emotional period just like the eyebrow tattoo healing process. Here is what the saline tattoo removal healing process looks like:
On the day of the session, the treated area feels tender and might feel like burning. It may look very swollen. The area will scab over after several days.
The treated area remains scabbed over after one week. The scab has probably fallen off and the pigment becomes disappears after two weeks.
One month later, the skin is looking more normal and the area has completely healed. After two months your skin is ready for the next session.
Saline Tattoo Removal Aftercare
Artists provide aftercare instructions to patients after the session and patients need to follow the aftercare instructions for the best result.
Keep the treated area clean and dry and don't pick the scabs.
Avoid heat, hot water baths, and heavy sweating.
Try to avoid sun exposure, swim, and work out also.
Must hydrate your skin.
Avoid alcohol and smoking.
When the scabs fall off, use vitamin E oil if recommended by the artist.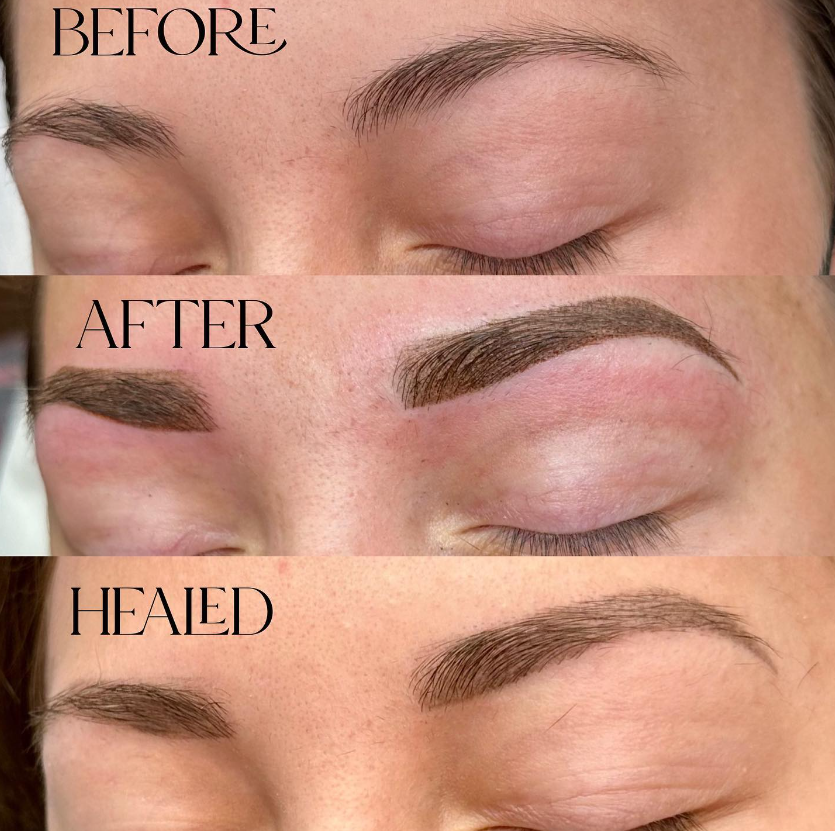 How Many Sessions Are Required?
Saline removal tattoo takes on average 10 to 12 sessions for complete removal, but it varies greatly. it depends on the patient removal goal. If the patient wants to remove the tattoo completely, the number of sessions will probably increase.
For complete removal, 11 saline tattoo removal sessions take place but for partial fading, 5 to 6 sessions take place. The exact number of sessions will depend on how the patient's body responds to the treatment.
Pros of Saline Brows Tattoo Removal
The pros of tattoo eyebrows removal with saline are as:
Effective for all pigment shades.
It is best for emergency tattoo removal.
It is a fast procedure for removal, effective, and also safe.
It has less recovery time and side effects.
Not much pain.
Does not damage the brow's hair.
Cons of Saline Eyebrow Tattoo Removal
The cons of tattoo eyebrows removal with saline are as:
Dark ink shades take a long time to remove.
It has a higher risk of scarring than removal with a laser.
How To Select The Artist?
When you select the artist to perform your eyebrows tattoo removal, keep in mind they have a license and also 3 years of experience. It is the best way to see positive final results.
Does Saline Eyebrow Tattoo Removal Hurt?
Tattoo eyebrows removal with saline solution is less painful than laser removal. People feel minor pain with the saline solution removal method.
Saline Eyebrow Tattoo Removal Cost
The average tattoo eyebrows removal cost with the saline solution method is somewhere between 100$ and 300$ per session.
FAQs About Saline Removal Tattoo
Here are some common questions related to saline tattoo removal. Must read
1. Does The Saline Brow Tattoo Removal Procedure Carry Any Risks?
Yes, there are risks associated with saline eyebrow tattoo removal, as it is not a widely accepted method, it has not been proven safe or effective, and there's not much information available about it. Additionally, it may cause infection, scarring, and skin discoloration.
2. Is A Different Method Suitable For Saline Tattoo Removal?
It depends on the tattoo that you want to remove. The saline removal brows method is less effective than other methods, such as laser tattoo removal, surgical excision, and chemical peels. Removing small and superficial tattoos is the general use of the Saline solution. However, for larger or deeper tattoos, it may not be effective.
It's best to consult with a professional tattoo removal specialist or a dermatologist to determine which method is best for you. They can evaluate your needs and recommend the most appropriate treatment option. If the saline method is unsuitable for your tattoo, they may recommend another method that may be more effective for your specific case.
3. Is There Any Downtime After The Removal?
Initially, it is unknown if there is any recovery time after the procedure because saline removal of eyebrow tattoos is not widely used. Consequently, there needs to be more information available about it.
4. Is Removing An Eyebrow tattoo With Saline Solution Harmful?
The removal of an eyebrow tattoo with saline solution carries the risk of experiencing negative effects like infection, scarring, and a change in the pigmentation of the skin because it is not a widely accepted technique and has not been proven safe or effective.
5. Is The Saline Removal Eyebrows Procedure Suitable For All Skin Types?
Most skin types generally consider the saline tattoo removal procedure safe. People with darker skin tones need to be cautious when considering saline tattoo removal, as it may lead to skin discoloration.
Before saline tattoo removal, consult a dermatologist or tattoo removal specialist. The saline microblading removal method may work depending on your skin type and tattoo. They can also suggest tattoo removal methods that suit your skin.
6. Is It Possible To Remove An Eyebrow Tattoo Using A Saline Solution?
Firstly, a saline solution can be used as a method of tattoo removal, but it is not commonly used for removing eyebrow tattoos. Specifically, removing small and superficial tattoos is the typical use of the saline solution. Additionally, we consider other methods, like laser tattoo removal, more effective than the saline solution for removing larger or deeper tattoos. Furthermore, seeking professional advice before removing an eyebrow tattoo with a saline solution is important, as it may cause irritation, infection, or scarring.
7. Are There Any Potential Side Effects Of Using A Saline Solution To Remove An Eyebrow Tattoo?
Skin irritation, infection, and scarring are just some of the possible adverse reactions resulting from using a saline solution to remove a tattoo. Before undergoing any procedure to remove a tattoo, it is essential to discuss the matter with a trained specialist first