When lash extensions first became popular, only classic lashes were available, which involved attaching a single extension to a single natural lash. But now wispy lash extensions have become more popular and are perfect for those who enjoy dramatic makeup looks and prominent eyelashes.
What Are Wispy Lash Extensions?
A new type of eyelash extension with observable spikes and a lush appearance is called a wispy lash extension. It is a unique hybrid eyelash extension that produces a smooth and feathered appearance to achieve a makeup look that is both more dramatic and natural-looking. Because they appear fluffy and feathery and are very natural, wispy lashes are the most popular style.
They are ideal for those who favor a dramatic makeup look and prominent eyelashes. Wispy lashes can be achieved using a variety of methods. Eyelash extensions offer the best long-term results compared to buying a strip of disposable wispy lashes or attempting to mimic the look with mascara.
Different Types Of Wispy Lash Extensions
Multiple wispy maps can be made based on the length and thickness of the eyelashes. Here, we'll discuss the most common types of wispy lashes.
1. Classic Wispy Lash Extensions
Of all the wispy styles, classic wispy lashes are the thinnest and most realistic-looking. They are ideal for customers who want to look very fluffy and natural. Combining individual lash extensions of various lengths creates wispy classic lashes.
Your natural lashes gain length and a little bit of volume from these fluffy, feathery extensions. If you want your natural lashes to stand out more, this style is a fantastic choice. You only need individual extensions applied in a 1:1 ratio for traditional wispy eyelash extensions. To produce spikes, the extension's length will vary.
2. Volume Wispy Lashes
Wispy volume lashes are a combination of fans with 2 to 6 lash extensions per lash fan, giving your eyelashes great volume and density. Spikes are made with closed fans when wearing these lashes. They are ideal for use on special occasions or by users who want their lashes to stand out.
3. Hybrid Wispy Eyelash Extension
The wispy volume and wispy classic techniques are combined in this wispy lash extension style. Individual lash extensions are layered between volume lash extension fans to create spikes in this style.
Wispy hybrid lashes are denser and thicker than wispy classic lashes, but they lack the uniformity of a volume set. If you have gaps in your eyelashes, wispy hybrid eyelash extensions are best for you because they can make your lash line look fuller.
4. Dramatic Wispy Eyelash Extensions
Wispy dramatic lash extensions, as the name indicate, offer the most dramatic appearance of all wispy lash styles. This dramatic variation of wispy lashes uses both longer and shorter fans.
You will need to use a mix of 2-6D fans and mostly larger 7-12D fans to create wispy, dramatic lash extensions. To give the effect an even more dramatic feel, use the 7-12D fans. Always be aware of the lashes' natural health and refrain from using excessive volume.
Wispy Eyelash Extensions: Different Lash Map Styles
There are various wispy eyelash designs to choose and each one needs different mapping. The most well-known is the Kim K style, named for the famous person Kim Kardashian. Here is how the various wispy eyelash designs differ from one another.
1. Kim K Wispy Lash Extension
The most popular and frequently requested wispy lash style right now is the Kim K lash style, which was heavily influenced by Kim Kardashian. It is, fortunately, suitable for all eye shapes. Your lash artist will apply 7, 8, and 9 mm lash fans in the interior corner, 11 mm fans in the center point, and 10 mm long fans in the outer corner to achieve this.
Typically, its spikes are 2 mm longer than the fans and 1 mm longer in the inner corner. Your lash technician will place a few spikes of similar lengths close to one another to ensure that there won't be any gaps after one eyelash extension falls off.
2. Doll-Effect Wispy EyeLash Extension
Longer lashes are applied in the middle of the lashes, and shorter lashes are applied to the outer and inner corners of the eyes to create the doll effect.
Generally, lash technicians would use 11, 12 mm close to the inner corner, and 10, 8, and 9 mm close to the corneas. This lash style can refresh the face and produce a flattering, youthful, opened-up look, making it ideal for people with almond, hooded, and even monolid eyes.
3. Open Eye Wispy Lashes
The longest lash length will be concentrated at the center of the eyes by adding length and volume in the middle of the eyelid to achieve wispy open eyelash extensions. The lengths will then evenly graduate from the mid-eye to the shortest lash lengths in the outer and inner corners of the eye.
Typically, lash technicians will start with shorter lashes (9 mm) for the inner eye corner, longer lashes (10 to 12 mm) for the middle, and then shorter lashes (9 mm) for the outer eye corner.
4. Cat-Eye Wispy Lash Extensions
In cat eye lash extensions, lash artists will begin by applying shorter lash lengths from the inner eye corner and then continue to apply for the longest lash extensions just on the outer eye corner.
How To Create Wispy Eyelash Extensions?
Making wispy eyelash extensions can be challenging. Wispy lashes are a little more "freestyling" than classic or volume eyelash extensions, which allow the lash artist to apply a relatively uniform set of lash extensions.
These are the following steps to create a wispy eyelash extension
1. Make The Eyelashes Ready
You must prepare the lash line and cover the lower lashes with eye pads before applying any lash extensions. This will not only make your job simpler for you but also make the client more at comfort.
Additionally, you need to clean the natural lashes to get rid of any oil, makeup, or dirt. This will ensure optimal bonding of the lash adhesive.
2. Set Up A Wispy Lash Map
You can start making a lash map once the natural lashes are clean and the eye pads are in place. You can use this to decide where to apply for each lash extension.
Generally speaking, you want to select shorter wisps for the opposite corner of the eye and gradually lengthen the wisps as you move toward the center of the eye. To fill and add fluff, keep a 2-3 mm space between the spikes or wisps and the volume fans.
3. Apply The Wisps
Start by using tweezers to remove a wisp from the eye's outer corner. Dip the base of the wisp into the adhesive before it dries, then press it into place. Reach the natural lash at a 45-degree angle, and link the wisp very near its base.
Try to get as close to the root as you can without touching the skin. Once you've applied all of the wispy lashes, keep doing this.
4. Apply the Volume Fans
Now start the volume fans. Fans will be inserted in between the spikes to thicken the lash line.
Utilize thin 0.03 mm-diameter 2–6D fans. Use a handcrafted lash fan that makes changing between lash lengths simple. Premade fans are in opposition to the freestyle vibe.
How To Look After Wispy Eyelash Extensions?
Here are some important recommendations for aftercare after getting wispy eyelash extensions.
1. Avoid getting your eyelashes wet after 48 hours of treatment.
2. Don't use mascara.
3. Sleep on your back.
4. Avoid oil-based products.
5. Brush your lashes with a clean spoolie on a regular basis.
6. Clean your lashes on a daily basis.
7. Do not pull or rub your eyelash extensions.
8. Avoid curling your lash extensions.
Durability Of Wispy Eyelash Extensions
Wispy eyelash extensions normally last 2 to 3 weeks after being applied. Your eyelash extensions might start to fall out after 3 to 4 weeks. Expect your entire set of lash extensions to disappear after 4 to 6 weeks. Because of this, lash artists advise scheduling a lash infill session every three to four weeks to preserve your delicate lash extensions and restore them to their previous state.
Do Wispy Lashes Harm Your Natural Lashes?
Wispy lash extensions won't harm your natural lashes if you apply them correctly and stick to the aftercare and maintenance instructions. Find a salon with certified and experienced lash technicians if you want wispy eyelash extensions because they are familiar with the right methods for implementation.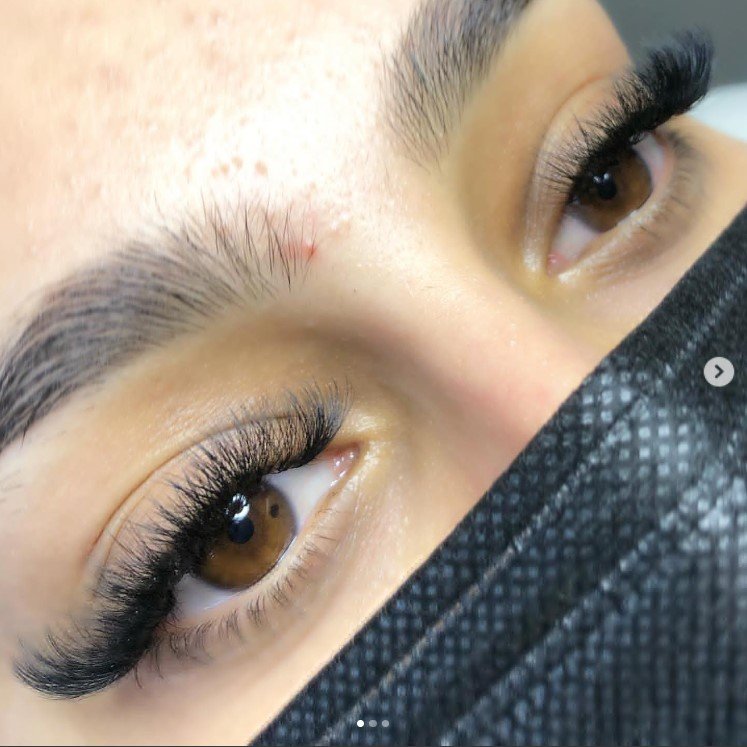 You are at risk of destroying your natural eyelashes if you don't. The application of too many extensions or the use of inferior materials by a novice lash artist can damage your natural lashes and hasten their premature shedding.
For Whom Are Wispy Eyelashes Extensions Good For?
For those who want thick, noticeable lashes that will give you confidence whenever and wherever you are, wispy eyelash extensions are ideal. Due to the fact that this technique uses a combination of lashes of various lengths, you can achieve a fluffy, feathery, textured look.
Cost Of Wispy Lash Extensions
The price of wispy lash extensions varies according to the salon you visit and the style you select. For a full set of wispy lash extensions, you can expect to pay between $100 and $250, and $80 to $150 for a refill.
Wispy Eyelash Extension – Key Takeaways
Wispy lashes have become one of the most popular lash extension trends in the world right now. To achieve a soft and fluffy appearance, "spikes" or "Wisps" are combined with volume fans to create this distinctive style.
A wispy lash set can look absolutely stunning when done correctly. But only a trained lash artist should perform them because they call for a high level of skill.