Micro-needling, a popular cosmetic procedure, has gained traction for its remarkable ability to rejuvenate the skin and address various skin concerns. However, proper micro needling aftercare is crucial to ensure optimal results and minimize potential side effects.
In this comprehensive guide, we'll delve into the essential aspects of micro-needling aftercare that will help you achieve the best possible outcomes.
Understanding Micro Needling Aftercare
After undergoing a micro-needling session, your skin requires special care to promote healing, prevent complications, and enhance the overall effectiveness of the treatment.
Day 1-3: The Initial Phase
During the first few days post-treatment, your skin will be more sensitive than usual. Follow these steps for proper aftercare:
Gentle Cleansing: Use a mild, non-alcoholic cleanser to cleanse your face. Also avoid harsh scrubbing and using hot water.
Hydration is Key: Apply a hyaluronic acid serum to keep your skin hydrated. This aids in healing and plumping the skin.
Sun Protection: Shield your skin from direct sunlight and use a broad-spectrum sunscreen with at least SPF 30 before stepping out.
Day 4-7: The Recovery Continues
As your skin begins to heal, you can introduce a few more steps to your aftercare routine:
Moisturization: Switch to a gentle moisturizer containing ingredients like ceramides or peptides to support the healing process.
Avoid Harsh Products: Steer clear of products containing retinoids, alpha hydroxy acids (AHAs), and beta hydroxy acids (BHAs) during this period.
Image Source: Instagram @microneedlingaftercare
Long-Term Micro Needling Aftercare
The benefits of micro-needling extend beyond the initial recovery period. Adopt these practices for the best long-term results.
Ongoing Skincare Routine
Continue to use mild cleansers, moisturizers, and sunscreen even after your skin has fully recovered. This helps maintain the improvements achieved through micro-needling.
Professional Guidance About Micro Needling Aftercare
Consult your dermatologist or aesthetician before integrating new products or treatments into your routine. They can provide personalized recommendations based on the client skin's needs.
Number of Sessions
Understand that micro-needling often requires multiple sessions for optimal results. Discuss a treatment plan with your provider to achieve your desired outcome.
Avoiding Micro Needling Aftercare Mistakes
To ensure the success of your micro-needling journey, steer clear of these pitfalls:
Picking or Scratching
Resist the urge to pick at scabs or flaking skin. Doing so can lead to scarring and interfere with the healing process.
Overexposure to Sun
Exposing your skin to the sun without proper protection can result in hyperpigmentation and undo the benefits of micro-needling.
Using Harsh Products Prematurely
Wait for your skin to fully recover before reintroducing exfoliating or potent skincare products.
Peeling After Microneedling
Micro-needling, a popular skin rejuvenation technique, often leads to skin peeling as a part of the natural healing process. While peeling can be unsettling, it's important to understand that it's a normal reaction and can be managed effectively. In this guide, we'll delve into why peeling occurs after micro-needling, how to manage it, and what you can expect during this phase.
The Science Behind Skin Peeling Post Micro-Needling
Microneedling entails generating deliberate micro-injuries to trigger the skin's innate healing processes. As a response to these tiny injuries, the skin starts shedding its outer layers, leading to peeling.
Why Does Peeling Happen?
Peeling is a sign that your skin is undergoing a renewal process. As the uppermost layer of the skin sheds, it paves the way for healthier, more youthful skin cells to emerge.
Phases of Peeling After Micro-Needling
Understanding the timeline of skin peeling can help you anticipate and manage the process effectively.
Immediate Post-Treatment: In the first few days after micro-needling, you may experience mild redness and tightness, indicating the initial stages of skin preparation for peeling.
Days 3-5: Onset of Peeling: During this phase, you might notice the beginning of skin flakiness, similar to a mild sunburn. It's essential to resist the urge to peel off the skin prematurely.
Days 5-7: Full Peeling: At this stage, the peeling process intensifies, and you may experience more noticeable shedding of the outermost skin layer. This is a crucial part of the skin's rejuvenation process.
Peeling after micro-needling is a natural and necessary part of the skin's healing process. By understanding why peeling occurs, managing it effectively, and seeking professional advice when needed, you can navigate this phase with confidence. Remember that the peeling process ultimately contributes to achieving the rejuvenated and radiant skin you desire.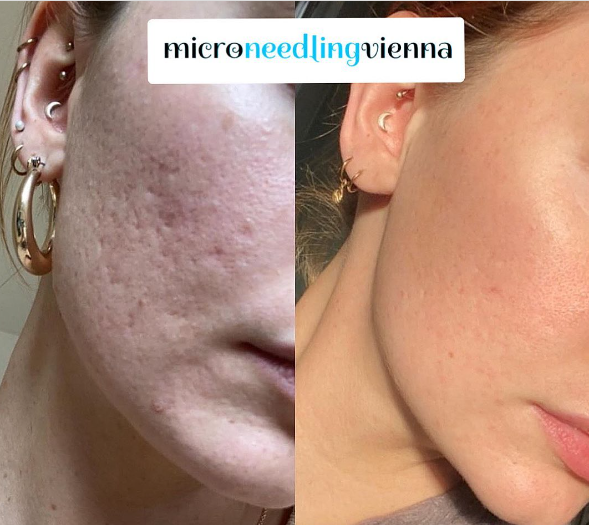 Image Source: Instagram @microneedlingofficial
Microneedling Recovery Time
The recovery time after a micro-needling session can vary depending on the depth of the treatment and individual skin characteristics. Generally, the initial phase of recovery lasts for about 2 to 7 days. During this time, you might experience mild redness, sensitivity, and potential swelling, similar to a mild sunburn. These immediate effects are typically short-lived and tend to subside within the first week.
As your skin continues to heal and renew itself, you might notice some flakiness or dryness around days 3 to 5 post-treatment. This is a normal part of the process as the outermost layer of skin begins to shed, making way for fresher skin underneath. The full recovery period, during which most of the visible effects of the treatment have resolved, can take anywhere from 1 to 2 weeks.
It's important to note that individual responses to micro-needling can vary. Some people may experience a quicker recovery, while others might require a bit more time for their skin to fully heal. Factors such as the intensity of the treatment, the depth of the needles used, and your skin's natural healing capacity can all influence the recovery timeline.
To ensure the best results and a smooth recovery, it's recommended to follow your practitioner's aftercare instructions diligently, which may include gentle skincare, sun protection, and avoiding harsh products until your skin has fully healed. If you have any concerns about your recovery process, it's always best to consult with your dermatologist or aesthetician for personalized guidance.
Is Micro Needling Painful?
Micro-needling discomfort can vary from person to person and is often influenced by factors such as individual pain tolerance, the depth of the treatment, and the type of device used. Generally, micro-needling is described as having a sensation that ranges from mild discomfort to a slight pricking or tingling feeling. Many people find the procedure to be manageable and well worth the potential benefits.
When performed by a trained professional, micro-needling is often accompanied by the application of a topical numbing cream before the treatment. This numbing cream helps to minimize any potential discomfort during the procedure. The sensation experienced during the treatment is often likened to a series of tiny pinpricks, which can be slightly uncomfortable but not usually intensely painful.
It's important to note that the depth of the needles used can influence the level of discomfort. Deeper treatments might result in slightly more discomfort, whereas more superficial treatments may cause milder sensations. Some areas of the face might also be more sensitive than others, but the discomfort is usually temporary and subsides shortly after the treatment.
If you're concerned about pain, you can discuss your worries with your practitioner beforehand. They can provide you with more information about what to expect during the procedure and can also adjust the treatment depth and techniques to ensure your comfort. Remember that the potential discomfort is often outweighed by the positive outcomes of micro-needling, such as improved skin texture, reduced scarring, and enhanced overall skin appearance.
Is Microneedling Permanent?
Micro-needling results are not permanent, but they can have long-lasting effects. The treatment stimulates the skin's natural collagen and elastin production, which can lead to improvements in skin texture.
However, as the skin continues to age and is exposed to various environmental factors, the effects of micro-needling may gradually diminish over time. To maintain the best results, follow-up treatments are recommended, typically every few months, along with a consistent skincare routine and proper sun protection.
Makeup After Micro Needling: Timing Guidelines
After undergoing microneedling, it's essential to give your skin sufficient time to heal before applying makeup. Generally, it's recommended to wait at least 24 hours after the procedure before using any makeup products. This waiting period allows the micro-injuries created during microneedling to begin their healing process without the potential interference of makeup ingredients.
When you do decide to apply makeup, opt for gentle and non-comedogenic products to avoid any irritation or clogging of pores. Remember, your skin's recovery is a crucial phase, so prioritize its health and well-being over the desire to use makeup as soon as possible. If you have any concerns or questions about post-microneedling care, it's always a good idea to consult your skincare professional for personalized advice.
Image Source: Instagram @microneedlingparis
Do's And Don'ts of Micro Needling Aftercare
Do's and don'ts of micro needing aftercare are as.
Do's
Follow Aftercare Instructions: Adhere to the specific aftercare guidelines provided by your practitioner. These instructions are designed to promote optimal healing and results.
Keep the Area Clean: Gently cleanse the treated area using a mild cleanser to prevent infection and promote healing.
Hydrate Your Skin: Apply a gentle, hydrating serum or moisturizer to keep your skin well-hydrated, aiding in the healing process.
Use Sunscreen: Protect your skin from the sun's harmful rays by applying a broad-spectrum sunscreen with at least SPF 30 whenever you go outside.
Stay Hydrated: Drink plenty of water to help your skin recover and maintain its elasticity.
Don'ts
Touch or Pick at Your Skin: Avoid touching, picking, or scratching the treated area.
Apply Harsh Products: Refrain from using products containing retinoids, alpha hydroxy acids (AHAs), or beta hydroxy acids (BHAs) until your skin has fully healed.
Engage in Intense Physical Activities: Avoid activities that cause excessive sweating for the first few days post-treatment.
Use Makeup Immediately: Wait at least 24 hours before applying makeup to allow your skin's micro-injuries to start healing properly.
Expose Skin to Direct Sunlight: Steer clear of direct sunlight and tanning beds for a few days post-treatment to prevent hyperpigmentation.
Remember that each individual's skin responds differently. So it's important to listen to your body and give it the time it needs to heal effectively. If you have any uncertainties or questions about post-microneedling care, consult your practitioner for personalized guidance.
Micro Needling Aftercare Tips
Proper aftercare is crucial to ensure the best results and minimize any potential side effects after a micro-needling session. Here are some microneedling aftercare tips to follow during the recovery period:
Keep it Clean.
Stay Hydrated.
Sun Protection.
Avoid Makeup.
Skip Harsh Products.
Patience is Key.
Don't Touch.
Avoid Intense Activities.
Drink Plenty of Water.
Consult with Professionals.
Remember that consistent and attentive aftercare can greatly enhance your micro-needling results. It contribute to achieving the smooth, radiant skin you desire.
Micro Needling Aftercare-Conclusion
Micro-needling aftercare plays a pivotal role in achieving the best results from your treatment. By following a proper routine, adopting long-term care practices, and avoiding common mistakes, you can harness the full potential of micro-needling for radiant, rejuvenated skin.
Remember, consistent and mindful aftercare will enhance your overall experience and bring you closer to your skincare goals. If you're unsure about any aspect of your aftercare, always consult with a skincare professional for personalized guidance.