The Ultrasonic Facial employs low-frequency sound waves that generate high-speed oscillations to prime the skin for product application. This non-invasive treatment is both invigorating and soothing, providing moisturizing benefits, and is safe for all skin types. However, as with most procedures, the noticeable outcomes of Ultrasonic Exfoliation may differ from one individual to another.
What Is An Ultrasonic Facial?
It is a noninvasive medical procedure designed to firm and rejuvenate the skin, using high-intensity focused ultrasound technology (HIFU). Ultrasound technology has always been a secure method of treating skin conditions. The new ultrasonic technology reduces inflammation and ageing, which is beneficial in treating acne and fine lines. Traditional facial treatment has helped millions of women and men worldwide clear their pores and refine their skin. If you want to take your monthly facial to the next level, consider an ultrasonic facial.
An ultrasonic facial is a safe and efficient method for removing dead skin cells and debris using cavitation. Cavitation is also used for skin tightening procedures, but in facials, the low-frequency vibrations of the ultrasonic machine effectively eliminate harmful substances from the skin's surface. After a few visits, your skin will feel renewed and revitalized due to the removal of toxins. This facial ultrasound treatment is highly effective in rejuvenating the skin of the face and neck.
How Does Ultrasonic Facial Work?
In an ultrasound facial, advanced sound wave technology penetrates deeply beneath the skin's surface, encouraging cellular renewal and repair. The treatment tones facial muscles increases blood circulation, promotes lymphatic drainage, combats puffiness and swelling, and enhances the absorption of skin care products.
The ultrasonic treatment's success lies in the fact that both water-soluble and fat-soluble active ingredients can easily penetrate the skin. Ultrasound intensifies the skin's metabolic processes and increases nutrient and oxygen supply to the cells. The inaudible, high-energy ultrasound waves penetrate the deep layers of skin, producing a controlled micro-trauma that stimulates the body's natural healing mechanisms and increases collagen production.
Ultrasound uniquely bypasses the superficial layer of skin and produces its effect only in the deeper layers where it is needed, unlike lasers, radiofrequency, microcurrents, and other noninvasive skin treatment modalities. The practitioner visualizes the skin layers using ultrasound imaging before delivering the ultrasound precisely to the required location and depth, with minimal effects on the surrounding tissues.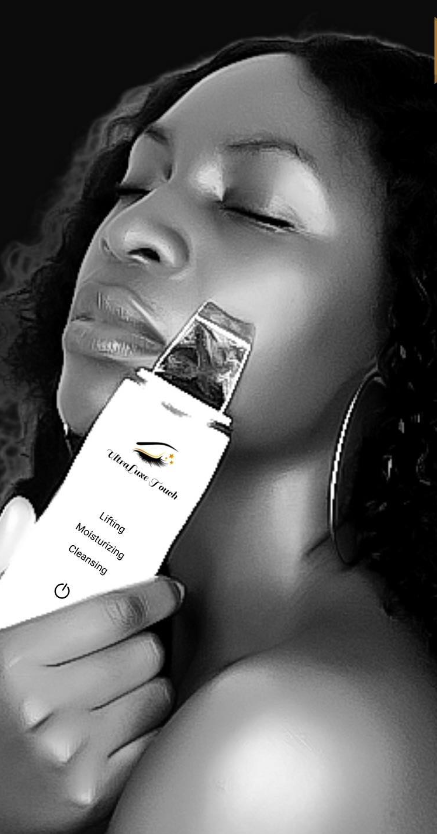 Ultrasonic Facial Procedure
The following steps are included in ultrasonic facial:
Face Cleansing: The first step is to thoroughly cleanse the face. This will assist in removing any makeup, dirt, or oil from the skin's surface. Cleanse the face with a mild

ultrasonic facial cleanser

and warm water, and pat dry with a clean towel.
Apply Ultrasonic Gel: To facilitate the transmission of ultrasonic waves and minimize friction or discomfort during the procedure, a fine layer of ultrasound gel is applied to the skin.
Exfoliation: Using a handheld ultrasonic device, the aesthetician will gently glide over the skin while emitting ultrasonic waves. This will exfoliate dead skin cells and debris that clog pores, leaving the skin with a radiant and smooth appearance.
Ultrasonic Infusion: Following the exfoliation process, the ultrasonic device will shift to an infusion mode to facilitate deeper penetration of skincare products like serums into the skin. By emitting ultrasonic waves, the device will aid in propelling the product further into the skin, thereby improving its absorption.
Mask: After the ultrasonic facial procedure, a mask will be applied to the skin to provide additional soothing and hydration. The mask will remain on the skin for 10-15 minutes before being removed using warm water.
Final Step Moisturize: After the procedure, the skin will be moisturized to retain the hydration and shield it against environmental harm. To safeguard the skin from UV damage, the client will receive guidance to evade sun exposure and to utilize a broad-spectrum sunscreen with an SPF of no less than 30.
Ultrasonic Facial Benefits
This facial not only removes impurities from your skin, but it can also enhance your complexion and make it brighter with just a few sessions. To take your results to the next level, you can opt for a chemical peel after completing your ultrasonic facial cleansing. By utilizing sound waves, ultrasonic facial treatments enhance blood flow and trigger the production of the protein responsible for the skin's suppleness and firmness. Additional advantages of this treatment include
Removal of dead skin cells.
Reduction of acne.
Blood flow stimulation.
Tightening of facial skin.
Reduce wrinkles and fine lines.
Decreasing under-eye bags.
Fading age spots, redness, and scars.
Risks Or Side Effects
Despite concerns expressed by some individuals, including medical professionals, about the potential risks associated with ultrasound facial treatments, there is no evidence of serious adverse effects based on clinical research.
Commonly reported side effects to include redness, swelling, bruising, and mild pain or discomfort, which usually subside after the treatment. In rare cases, transient numbness and hyperpigmentation may occur.
If you experience discomfort during the procedure, a skilled medical practitioner can administer pain relief measures such as injections, numbing cream, or oral medication. Furthermore, you can adjust the treatment's intensity based on your individual reaction and pain tolerance.
Ultrasound Facial At Home
If you want to try an ultrasound facial at home, there are a few things you should keep in mind. Ensure that you purchase an ultrasound device of superior quality from a reputable manufacturer. Look for devices that have been approved by the FDA for home use, and be sure to carefully follow the instructions.
Before using an ultrasound device on your face, you should thoroughly cleanse your skin and apply a serum or moisturiser. This will allow the ultrasound waves to penetrate the skin more efficiently. Be sure to move the ultrasound device across your face slowly and gently, using a circular or back-and-forth motion.
Avoid applying excessive pressure, as this can cause skin damage. As your skin becomes accustomed to the treatment, start with a low-intensity level and gradually increase it. It is also important to note that, although ultrasound facials can improve the appearance of your skin, they may not be appropriate for everyone. Before using an ultrasound facial device at home, it is a good idea to consult a healthcare professional if you have any medical conditions or skin sensitivities.
Cost
The price of an ultrasonic facial can vary based on a number of factors, including the location of the service, the expertise of the provider, and the inclusion of any additional treatments. You can expect to pay between $100 and $250 per session, on average. It is important to note that the price may also vary based on whether you opt for a package deal or a series of treatments.
Moreover, prices may vary depending on the type of spa or facility you visit. Before scheduling an ultrasonic facial, you should always conduct research and price comparisons to ensure you are receiving the best value for your money.
Takeaway
Ultrasonic facials are a painless, non-invasive way to improve your skin's health and appearance. The treatment deep-cleanses exfoliates and rejuvenates the skin, making it look brighter, smoother, and younger. Even though an ultrasonic facial may cause mild redness or irritation, it is a popular choice for people who want to improve the health and appearance of their skin.
If you want to know more. Click the following
FAQ's
1. How Efficient Is Ultrasonic Technology?
In order to determine whether or not micro-focused ultrasound is efficient for skin tightening, it has been the subject of numerous clinical trials. The scientific community widely accepts ultrasound facials as effective. In 2009, the FDA cleared Ultherapy, a nonsurgical method of lifting the eyebrows. Later, the FDA approved therapy for use on the neck, chin, and chest to tighten sagging skin (upper chest). This treatment works best for those who have only mild skin sagging and otherwise healthy skin.
2. Is It Safe to Get an Ultrasonic Facial?
Ultrasonic facials are safe, and the ultrasonic machine's sonic waves are not harmful to your health. The ultrasonic facial is gentle, non-invasive, and appropriate for most skin types, including acne-prone and sun-damaged skin. Because the ultrasonic mechanism is so effective at cleaning clogged pores, extractions are unnecessary and unnecessarily painful.
Your skin will radiate from within, making this the ideal treatment to indulge in before a special occasion. Once your skin's vitality and healthiness have been restored, regular ultrasonic facials will keep it looking great.
3. How Long Does The Ultrasonic Procedure Take?
Sofwave takes only about half as long at about 30 minutes, while HIFU can take anywhere from 30 to 90 minutes (from just the brow to the full face and neck). The half-hour delay is necessary because of the anaesthetic cream.