Colored lash extensions are a fun and creative way to enhance your natural eyelashes. There are numerous ways to introduce colored eyelash extensions, also known as mermaid extensions or unicorn extensions, to your clients. They are also a great way to experiment with different colors without having to use makeup. Color eyelash extensions are perfect for special occasions, festivals, and events, or simply to add some fun to your everyday look.
Colored Lash Extensions
Regular eyelash extensions that have been permanently colored are known as colored eyelash extensions. Colored lash extensions are false eyelashes that come in various colors, rather than just the traditional black or brown.
Colorful lash extensions can be used to add a pop of color to the eyes, match the color of the natural lashes, or create a dramatic effect. They are applied in the same way as traditional eyelash extensions, by attaching them to the natural lashes using a bonding agent.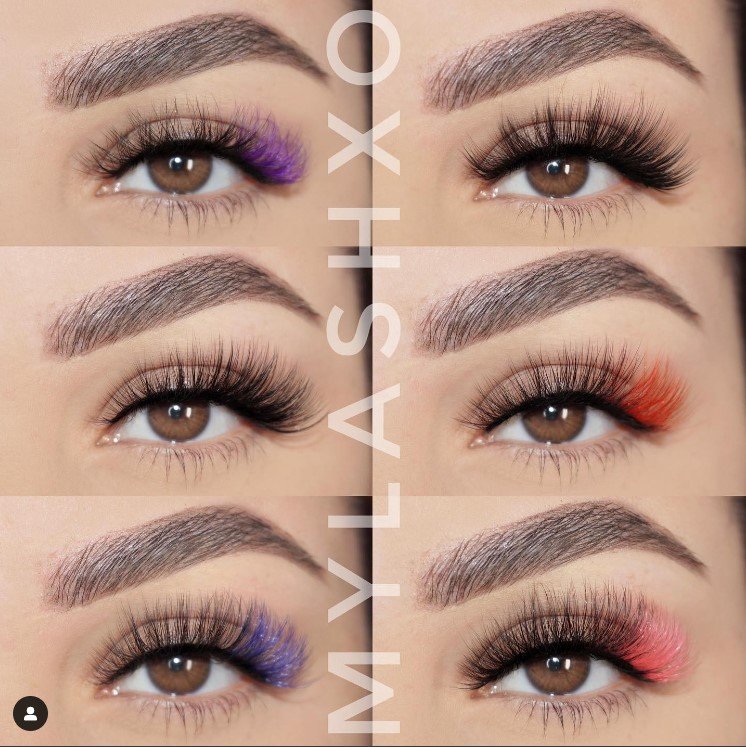 Advantages Of Colored Lash Extensions
Some pros of color lash extensions are given below.
1. Colored Lashes Enhance
Everyone is aware that cosmetics draw attention to your eyes. This would apply if you got eyelash extensions in a variety of colors. Without the trouble of applying eyeshadow, mascara, or eyeliner every time you go out, it will completely transform the way you look.
If achieving this is your goal, the color you choose should match the color of your eyes. For instance, if you have brown eyes, choose lashes in shades of blue and green. Purple lashes will draw attention to your eyes if you have green or blue eyes.
2. Get a Look You Can't Get With Mascara
Although colored mascaras have been available for years, colorful lash extensions can give you a one-of-a-kind look that makeup cannot. Mascaras can never match the volume and length that lash extensions provide, and it's nearly impossible to achieve a distinct look like ombre or multi-colored colored lashes with mascara.
Getting colored lashes are a great way to avoid the clumpiness that can occur when applying too many mascara coats. You can never go wrong with colorful lash extensions if you want to open up and add some oomph to your style.
3. Match The Color Of Your Hair
If you're looking for a change and your hair looks unbelievable, consider matching the color to your lashes. Additionally, wearing ordinary black eyelash extensions can be too much if you naturally have red or blonde hair.
4. Complement Your Costume
Falsies and mascara aren't party-proof, let's face it. Additionally, now is the ideal time to experiment with lash extensions because Halloween is just around the horizon. An eyelash extension can give you a variety of looks, including whimsical mermaid and fairy appearances, a delicate angel, or even a dramatic cartoon figure. They're not only great for costumes, but they're also ideal for occasions, especially during the upcoming holiday season.
Consider decorating your eyes for the occasion in festive red or wintry white. If you're still on the fence about getting colored lashes extensions, you might try using false eyelashes, concealer, and makeup to achieve a similar look. Although it can be messy and only last for a short time as lash extensions, this method is a fantastic way to test it out and see if it suits you.
Different Colored Lash Extensions
It may be hard to decide what to buy because there are so many things to consider, like your eye color, eye shape, and taste. Therefore, we put together a list of the best-colored lash extensions to help you, regardless of whether you prefer delicate lashes with a hint of color or boldly colored appearances.
1. Purple Lash Extensions
Purple lashes are the color that, while undetectable from a distance, would stun onlookers when viewed up close. It looks fantastic on eyes of all shades, but if you have green or blue eyes, it will look the best on you.
2. White Lash Extensions
Having white streaks in your eyelash extensions will cause someone to look twice. However, it's the ideal holiday outfit if you want to project a delicate snow queen vibe or if you want to dress up for Halloween.
3. Brown Eyelashes Extensions
Brown eyelash extensions are ideal for improving your regular appearance. Its distinctive yet elegant lash color would go well with any eye color.
4. Green Lash Extensions
Green is a bolder color option that is sure to draw attention. We advise having an ombre-colored lash extension to make it more wearable. It also looks fantastic between your black eyelash extensions, and think of it as a lash highlight.
5. Pink Lash Extensions
If you only want a slight touch of color, pink and black eyelash extensions are ideal because they look delicate combined. Any eye color would go well with this, but green eyes stick out the most.
6. Blue Colored Eyelash Extensions
If you want to draw attention to your brown eyes, blue lashes are the ideal flash of color. It's a striking color, similar to purple eyelashes, but not overpowering enough to prevent you from experimenting with the rest of your makeup.
7. Red Lash Extensions
Red is the finest color for a daring and distinctive look. When it comes to lashes, it's the most daring hue you can choose, and we're all for it. If you have blue or grey eyes, this will make them stand out.
How Can You Apply Colored Lash Extensions?
With colored lash extensions, you can express your creative side. Here are a few great looks:
1. Full Set Of Lash Extensions
Of course, there is the entire set. Every colored eyelash extension is connected to one natural lash in the same manner as ordinary eyelash extensions. Therefore, this appearance is quite dramatic. The most preferred colors for the entire set are pink, purple, and blue.
2. Wispy Eyelashes
Wispy lashes with colored lash extensions are another popular look. It's usually done with colored lashes being shorter and regular black lashes being longer. So, spikes can be colored, and the rest can be black. Or it could be two different colors, such as a basic set in green and spikes in red.
3. Ombre Eyelashes
The ombre look is popular in hair, nails, permanent brows, and eyelash extensions. The ombre-colored lash extensions set includes extensions with darker roots and lighter tips. It can be any color, and people adore the ombre style.
4. A Vibrant Color
Finally, a pop of lash colors, a cat-eye style in black lash extensions with a few colored lashes in the outer corner. This look is much more advanced while still being playful and creative, making it ideal for those who have never had colored lash extensions. It's not as dramatic as the full set, but it's still worth mentioning. Lash artists typically place 10-15 lashes in the outer corner.
Offer Colored Lash Extensions In Salons
Lash extensions with color have been popular for many years. People who want to try something new, those who like makeup and a stand-out look, and those who enjoy parties all adore them.
Colored lash extensions are an excellent way to attract new clients while offering something unique that is not available in every salon.
Tips For Colored Eyelash Extensions
If you're considering using eyelash extensions colors, keep reading for some advice.
Clear glue will look better than black glue, especially with pink, yellow, or other brightly colored lashes.
Examine the client's natural lashes carefully to ensure that the color lashes extensions are not too heavy for the client's eye.
Take note of the length you're using and stick to the mapping.
Colored Lash Extensions Cost
The type of colored lash you choose and the amount of time the technician spends on it will affect the price of your multicolored eyelash extensions.
Color eyelash extensions cost between $50 and $200, with multi-eyelash extensions colors being more expensive than bottom lash extensions depending on the complexity of the colored lash set you choose.
If you want to read more about lash extensions. Click the following